Thanks to automated production and shock freezing technology, Miratorg managed to increase the shelf life and preserve the useful properties of the product without the addition of preservatives. Nuggets of tender chicken fillet in wheat crackers are a hearty dinner or a quick snack for the whole family.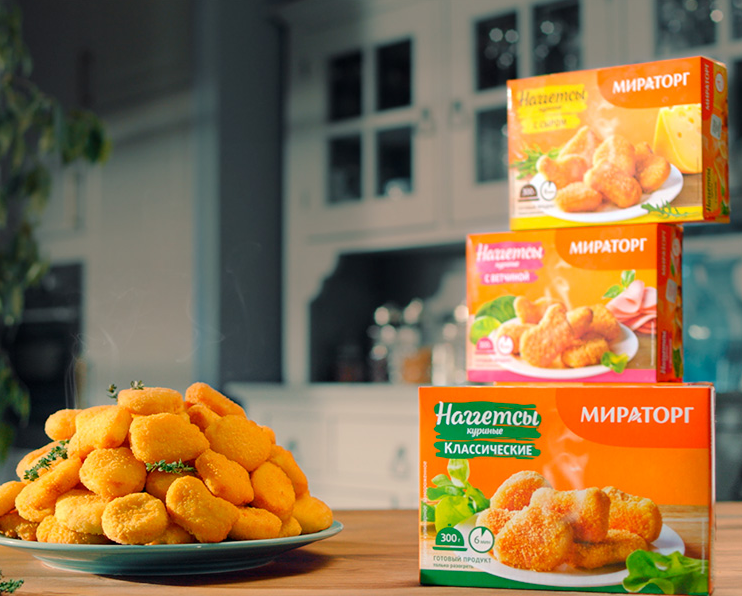 In the assortment:
Classic chicken nuggets are the most tender pieces of poultry meat in golden breading. At the same time crunchy and juicy, they will appeal to even the most sophisticated gourmet;
Crispy chicken nuggets-fried to a golden crust, juicy chicken nuggets have become a favorite delicacy of children and adults for a reason. Tender white poultry meat retains all its flavor thanks to a special crispy breading. Crispy on the outside, tender on the inside!
Chicken nuggets with cheese - pieces of chicken fillet stuffed with melted aromatic cheese, fried in breadcrumbs with spices;
Chicken nuggets with ham - the most tender chicken nuggets with slices of fragrant ham in golden breading-this is a rich, delicate taste and seductive aroma! It is satisfying and very tasty!
The product is ready to use! To enjoy the balanced taste of the dish, you just need to warm it up. Nuggets are perfectly combined with sour cream and sauces, salads.

Buy in supermarkets of Moldova, in our online store or in our brand store - ADELUN FOOD MARKET